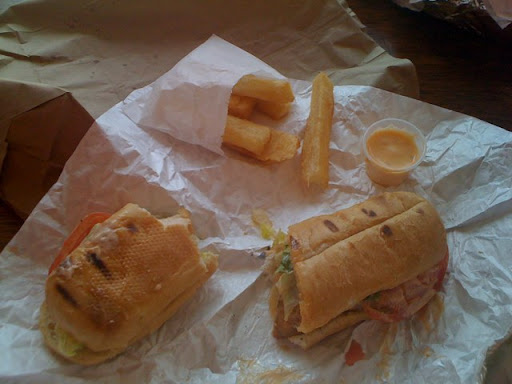 Andrew and I met for lunch today before I took him to Enterprise to pick up his rental car while the 'a little more than a "fender bender"' GT is in the shop. Of course the wait was an hour for a car and he was on his lunch break so we'll have to make another trip tonight but at least I got to spend some time with him. Our schedules for the month of July leave us without a single day where both of us are in town and not working.
Alas, I digress. As I sat at the table looking at my chicken breast sandwich, yucca and spicy sauce I realized two things: how very much I miss
Paige
(and Deb) and how lucky I am to live walking distance to a
C&J
.
I guess living in Arlington isn't so bad. So I made a list of places that make me happy I moved across the river:
1.
Dogfish Head Alehouse:
my absolute favorite beer and an affordable, delish restaurant. We probably go at least two times a month. I dream of owning one of their Alehouses. Maybe open one up somewhere by the water and live the good life? Melt me.
2.
Ray's the Steaks:
the most mouthwatering steak I have ever had was their NY strip au poivre
3.
Ray's Hell-Burger
: the best burger I've ever had (second to my brother's home made inspired by the Georgetown University Grilling Society)
4.
Metro 29 Diner
: the black and white milkshake is worth the mediocre food
5.
Uncle Julio's Rio Grande Cafe
: walking distance to my house
6. Harris Teeter: we don't have any close to where I lived in Bethesda
7.
Clarendon Ballroom
: late night bar time, fun dancing
8.
Hard Times Cafe
: If you want to watch a game, they have plenty of TVs
9.
Spider Kelly's
: I shot the winning bullseye last weekend during a game of darts